Toddler Sleep: How to Help Them Fall & Stay Asleep
Toddler 101: Free 1-hour webinar led by Erin Junker, Sleep Consultant and Founder of The Happy Sleep Company
It's known that a well-rested toddler is happier and able to learn better about the world around them!
As a parent, you know how tricky getting these little ones to sleep can be, so how do we get them to fall asleep and stay asleep?
Have you ever wondered...
Why is it such a battle to get my child to bed every night?
How often should I let my toddler nap through the day?
I feel like I've created the perfect bedtime routine but my toddler still won't spend the whole night in their bed!
If so, this webinar is for you!
Your toddler is growing up so quickly and the sleep patterns you're used to may be changing drastically.
Your toddler is growing up so quickly and the sleep patterns you're used to may be changing drastically.
She'll also go over tips and tricks for getting your toddler back on track with their sleep patterns.
In this webinar you'll learn:
All about bedtime routines and how a bedtime chart can help smooth out the process
How a Wake Up Clock can help with difficult overnights and early wakes
Age appropriate nap times and bedtimes for toddlers and preschoolers of various ages!
How this session works:
This is part of our Toddler 101 Series. Erin Junker from The Happy Sleep Company will join us on Zoom. She will teach you all about toddler how to get your toddler sleeping soundly through the night!
You'll have an opportunity to ask direct questions to Erin to get answers to all your questions about toddler sleep and bedtime!
Join with or without your toddler (we keep things casual!)
Moms of all stages will benefit from this session but the tips and techniques shown will be catered towards toddlers 2 years and older.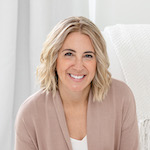 Meet Your Instructor
Erin Junker, Sleep Consultant and Founder of The Happy Sleep Company
As a mom, Erin Junker has seen first-hand how much of a difference a healthy sleep can make for a child and the entire family!
Through the knowledge gained working in health communications and becoming a certified infant and toddler sleep consultant, Erin has helped thousands of families gain amazing, healthy sleep for their children and she can help you too!
She has been committed to working with tired parents to help them get their little ones the sleep they need! When nap-times become easy, bedtimes become joyful, and nights become full of restful sleep, this makes an incredibly positive difference in the overall health, happiness, and well-being of families.