How to Harness your Toddlers Independence
Toddler 101: Free 1-hour webinar led by Kaly Town, Montessori Teacher from Aurora Montessori School.
Toddlers just want to live young, wild, and free! The power of an independent toddler is something all parents want to achieve!
There are so many programs and activities to choose from but you might be thinking "Which one will give my child the right amount independence?"
Have you ever wondered...
What are some toys or solo activities that can help my toddler problem solve, explore and be creative?
How can I encourage my child to tidy up and be more organized?
What are the benefits of "free play"?
If so, this webinar is for you!
This webinar will help you discover your child's independence while also setting reasonable boundaries for them to do so!
We'll be talking about how your child can become more creative and learn how to problem solve on their own. Kaly believes that with the right tools, every parent has the capacity to raise their children up with patience, peace and love.
Whatever questions you have, she has heard them and has the answers!
In this webinar you'll learn:
What to teach your toddler to help them problem solve on their own
How to set up your home environment to encourage and foster your child's independence
All about reasonable boundaries with screen time as well as gentle and positive discipline strategies to keep your little one on the right track!
How this session works:
This is part of our Toddler 101 Series. Kaly Town from Aurora Montessori School will join us on Zoom. She will be talking about ways to get your toddler thinking independently while encouraging their creativity and problem-solving.
You'll have an opportunity to ask Kaly questions and get answers to all your questions about the Montessori program!
Join with or without your toddler (we keep things casual!)
Moms of all stages will benefit from this session but the tips and techniques shown will be catered towards toddlers 2 years and older.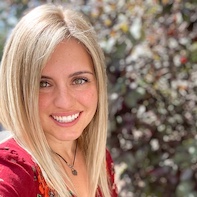 Meet Your Instructor
Kaly Town, Montessori Teacher
Kaly has spent many years as a Montessori teacher and Registered Early Childhood Educator. She is also a Montessori parent educator and is proud to be raising her own family!
Over the years, she has grown to see that each moment is an opportunity for us to become more intentional about how we interact with our children's lives!
Her passion is helping families create comfortable spaces in their homes to spark creativity, promote independence and help children to be more inquisitive about the world around them!