"Grow, Play, Rest, Repeat": Hitting those BIG Toddler Milestones
Toddler 101: Free 1-hour webinar led by Sabrina Handa, Clinic Director and Paediatric Physiotherapist from The Hive in Toronto.
Your toddler has been working so hard to build up their motor skills ever since they were a baby.
They've just started taking their first steps and already they are ready to run! Whether they are kicking a ball or picking up their own spoon, it is important to refine these essential motor skills as they continue to grow up!
Have you ever wondered...
My child is not walking yet. Should I be worried?
Why do my child's feet turn in when they walk? Or why are they tip-toeing?
What are the best toys/equipment that can help my toddlers motor development?
If so, this webinar is for you!
The way your toddler plays, learns, speaks, acts and moves will tell you a lot about their development as they get older! It may feel like just yesterday that they were only crawling and now you might be finding yourself chasing them around the house.
This webinar will give you all the information to help your child starting moving around with ease and refining these developments in their mobility as they grow!
In this webinar you'll learn:
How to create opportunities at home to build on these essential motor skills
The key stages of physical development for your child at every age
The benefits of consulting a specialist if you feel your child may be falling behind
How this session works:
This is part of our Toddler 101 Series. Sabrina Handa from The Hive will join us on Zoom. She will be talking about ways to get your toddler moving around and refining these essential motor skills as they get older.
You'll have an opportunity to ask Sabrina questions and get answers to all your questions about the hitting these important milestones!
Join with or without your toddler (we keep things casual!)
Moms of all stages will benefit from this session but the tips and techniques shown will be catered towards toddlers 2 years and older.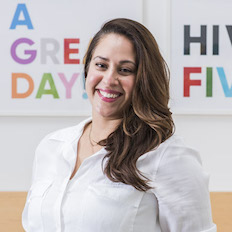 Meet Your Instructor
Sabrina Handa, Paediatric Physiotherapist from The Hive
Sabrina Handa is The Hive's Clinic Director and has been a Paediatric Physiotherapist for 15 years. She was driven to create The Hive, Toronto's only boutique multi-therapy clinic for kids, because a space uniquely designed for kids was sorely missing in the city.
She loves what The Hive has become, and loves helping babies, kids and teens be their best selves every day. When she isn't working, she is singing Encanto songs with her 4 and 2 year old, and trying to get back into Yoga (after a long hiatus!)