Postpartum Exercise: How and When to Exercise after Giving Birth
Postpartum 101: Free 1-hour webinar led by Certified Personal Trainer Jessica from Mighty Mom
Have you ever wondered...
Unsure of what exercises you can and can't do as a new mom?
Wondering how you will practically create a fitness routine?
Confused about what is happening with your core after c-section or labour?
If so, this webinar is for you!
Exercising after having a baby is confusing. First you have to realistically…find the time…and then you have the constant questions spiralling your mind like…
"Am I doing this right?"
"Is this safe for my body?"
"What are the best exercises for new moms?"
We have all the answers for you! Jess from Mighty Mom Fitness has worked with hundreds of new moms just like you who are debating getting back into it… but unsure of how to start!
This webinar will help you discover the most effective way to see and feel positive change in your body postpartum. You'll take away practical exercises and tips for postpartum life on the move and be able to start a fitness routine with confidence.
In this webinar you'll learn:
Where to start in creating a fitness routine when you're an exhausted new mom
Which exercises are safe to start your routine with and how to do them
Answers to all your questions about your core. Things to look out for and how to heal them through fitness
How this session works:
This is part of our Postpartum 101 Series. Jessica Sennet from Mighty Mom Fitness will join us over Zoom.
She will share everything you need to know about entering a fitness routine as a new mom. You'll walk away feeling empowered and equipped with the right knowledge.
Join with or without your baby (we keep things casual!)
Moms of all stages will benefit from this session but the techniques shown will be catered towards babies 0-14 months old.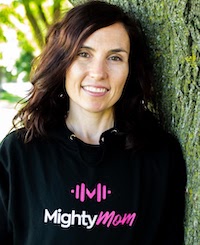 Meet Your Instructor
Jessica Sennet, Certified Personal Trainer from Mighty Mom
Jess is passionate about helping new moms just like you feel confident and comfortable in their own skin! As a new mom herself, she understands the struggle of trying to make a fitness routine a reality when life seems to get in the way.
Jessica is a Certified Personal Trainer, Fit for Birth Corrective Exercise Specialist, Oh BABY Fitness Instructor, CORE + DRA Expert and a graduate of many specialized workshops and seminars in Prenatal and Postpartum Fitness!
She has helped hundreds of new moms get into a fitness routine and is ready to help you do the same.