Your first three sessions with Kelly will be free. Ongoing sessions will be at a pay-what-you-can rate. (Covered by most insurance providers)
Kelly is a Practicum Psychotherapist, she completed her Masters in Psychology and is currently obtaining practicum hours. Her sessions are supervised by a fully licensed therapist.
About
My own lived experience gives me a deep appreciation for the bravery needed to seek out support and I am honoured to provide a safe, non-judgemental and accepting space for you to share your story.
As a behaviour therapist working collaboratively with families for the past 6 years, I have come to value the benefits of holistic and comprehensive therapy that includes not only the individual but also their loved ones and peer support.
This experience and my Masters in Counselling Psychology from Yorkville University provides me with a strong foundational knowledge on how to support people at all stages of their journey towards well-being.
I view the present as an exciting time as more conversations are being started around mental health and I hope to promote stigma-free, preventative and much needed therapy for people from all walks of life.
"Kelly has an unwavering kind, accepting and positive energy. She shows up fully and authentically for her clients in a way that empowers you in your wellness journey."
Specialization
Prenatal Anxiety & Depression
Postpartum Anxiety & Depression
Transition to Parenthood
Parenting Skill Development
Emotional Regulation
Self-care
Personal Healing & Growth
Mood Disorders (Anxiety, Depression)
Emotion Regulation
Life Stressors
Trauma
Family Therapy
Developmental Disabilities
Behavioural Issues
Substance Use
Phobias
Education
Master of Arts in Counselling Psychology - Yorkville University
Graduate Certificate in Autism and Behavioural Sciences - Mohawk College
Honours Bachelor Degree in the Life Sciences, Minor in Psychology - McMaster University
Additional Training
Mental Health First Aid
Trauma Informed Care
Exposure Therapy Training
Cognitive Behavioural Therapy (CBT) Training
Acceptance and Commitment Therapy (ACT) Training
Accept Identify Move (AIM) Training
San'Yas Anti-Racism Indigenous Cultural Safety Training Program
Therapy Style
I approach therapy with you as the expert of your own life and I am there to walk with you towards wellness. I believe in holistic and comprehensive support, being sensitive to the unique biological, psychological, cultural and social factors that are important to you. My therapy style pulls from trauma-informed, cognitive behavioural, narrative, person-centred, family systems and attachment based approaches.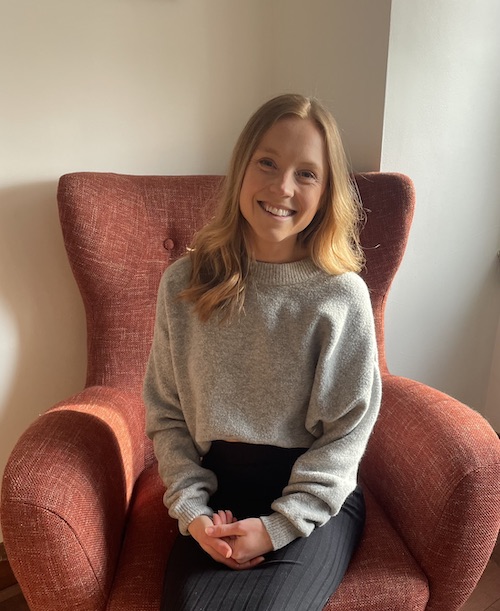 Kelly Kozluk
She / Her
Practicum Therapist - MA, RP Qualifying