About
Navigating life's challenges can be tough and seeking help isn't always the easiest first step. As a therapist who has been working in various, challenging settings for a long time, I have seen firsthand the positive impact that therapy can have on individuals. I feel it is so important that we work together to learn more about your story and strengths to help discover self compassion as well as solution-focused and practical strategies to move towards your therapy goals.
My therapeutic techniques are flexible to suit your needs. These modalities include cognitive and dialectical behavioural therapies, motivational interviewing and creative approaches. In addition to providing a trauma-informed and non-judgmental environment, I believe in an individualized, person-centered and collaborative approach. This means we'll tailor our time together to what fits you best.
I hope to meet you where you're at to increase resilience and compassion through applicable skills that will support your ability to find balance, confidence and security. I encourage you to reach out and come talk with me!
Therapeutic Interest
Emotional regulation
Parenting supports
Mood Disorders (depression and anxiety)
Trauma
Transitions in parenthood (pre and post)
Self-esteem & personal development
Parenting Skill Development
Child Development
Co-Parenting
Substance misuse
Greif and Loss
Education
Honours Bachelor of Social Work, Carleton University
Masters of Science in Child Art Psychotherapy, University College Dublin
Post-Graduate Certificate and Diploma in Play Therapy, National University of Ireland
Additional Training
Additional Training
Advanced Dialectic Behavioural Therapy Training
Group Supervision and Individual Clinical Supervision Training
CBT-E for Working with Eating Disorders
1-2-1 Interventions with Domestically Violent Offenders
Working with Female Victims of Domestic Violence
Restorative Justice Practice – Community Engagement
Therapeutic Crisis Intervention
Applied Suicide Intervention Skills Training and Safe Talk
Don't Lose the Head - Parental Support for Teens Misusing Drugs and Alcohol
Non-Violent Crisis Intervention and Prevention Training
Motivational Interviewing: Change Counselling, Modifying Health Behaviors
Working with Resistannce: Counselling and Frontline Engagement
Standard First Aid and CPR/AED
Risk and Assessment Certifications
Spousal Assault Risk Assessment – Domestic Violence Recidivism
Risk Matrix 2000 – Static Sex Offender Risk Assessment
Stable and Acute 2007 – Dynamic Sexual Recidivism Assessment Tool
Level of Service Inventory – Criminogenic Risk-Need-Responsivity Recidivism Assessment
SAOR – Screening and Brief Intervention for Problem Alcohol and Substance Use
YP CORE/CORE 10 – Mental Health Sessional Assessment Tool for Young People
Child Behavioural Checklist (CBC) – Behaviour Problems and Social Competence
Therapeutic Style
Client-Centered & Strength-Based
Cognitive Behavioural Therapy
Anti-Oppressive & Culturally Sensitive
Trauma-Informed
Strength-Based
Collaborative
Compassion-Focused Therapy
Evidence-Based
Dialectical-Behavioral Therapy
Creative Therapy Approaches (Art and Play)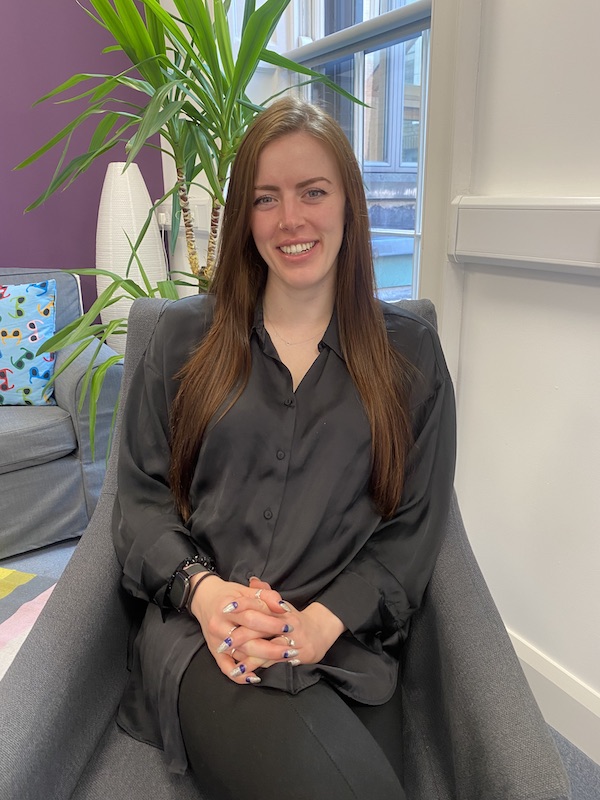 Fiona Daly
She / Her
Therapist - MSW, RSW