About
As someone that is both in the process of becoming a therapist and learning how to be a parent, I fully understand the nuances of moving through life transitions and the challenges that can come along with it.
My journey into parenthood has been both incredibly rewarding but it didn't come without its difficulties. The journey we anticipated did not come together as we imagined and while we've had numerous moments of joy, becoming parents presented us with new challenges to overcome.
Within therapy, my aim is to support parents through the multifaceted experiences by validating them, allowing them to feel connected to their journey, and preparing them for the later challenges that may come their way. Parenthood is a process of growth that involves reflecting on life experiences as a means to move forward and form our approach to parenting.
Through a client-centered, anti-oppressive approach, my aim is to aid you in embracing the new versions of yourself as a parent and to help collaboratively overcome your personal challenges. I invite you to connect with me so that I may support you in your new stage and role.
Therapeutic Interest
Mindfulness & Self-care
Personal Healing & Growth
Emotional Regulation
Self-Love / Body-Image
Pregnancy Anxiety and Depression
Postpartum Anxiety and Depression
Trauma / Birth Trauma
Perinatal Loss
Life Transitions
Parenting Skill Development
Family Dynamics
Education
Master of Arts in Counselling Psychology – Yorkville University
Diploma in Assaulted Women's and Children's Advocacy – George Brown College
Honors Bachelor of Science in Psychology – University of Toronto
Additional Training
Sexual Health Education Training with Toronto Public Health
Safe Talk Certification for Suicide Prevention
Therapeutic Style
Client-Centred
Anti-Oppression/Anti-Racist
Cultural Relational
Cognitive Behavioural
Trauma Informed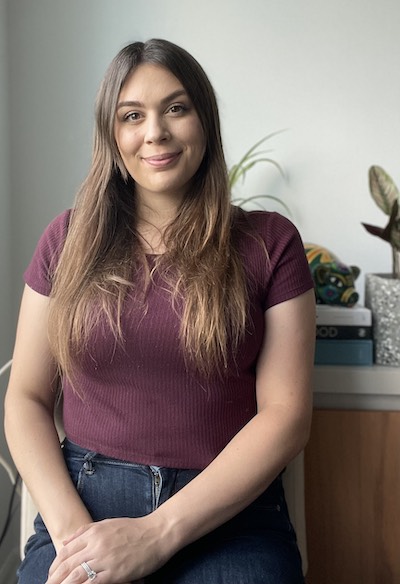 Natalie Taylor
She / Her
Resident Therapist - MA, RP Qualifying